K-Town Sound Show Chorus is proud to have the following quartets associated with our chorus. We endorse all of them as excellent singers and entertainers, suitable for any occasion...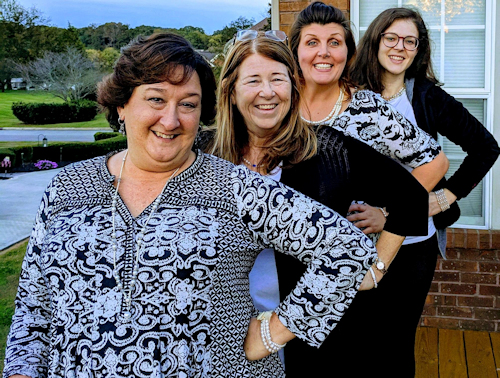 Girls & Pearls Quartet
has been singing together since November of 2015. We are having a wonderful time performing at various chorus functions, Christmas events, and Singing Valentines.
LR: Tolea, Janet, Rachel, Jessica
Jessica Roush, Tenor
Jessica is originally from Indiana and a Knoxville transplant since 2011. She has been singing most of her life and was introduced to barbershop in 2014 by our baritone, Janet. When she isn't singing, Jessica enjoys trying new foods, reading, and going bowling.
Rachel Everence, Lead
Rachel is passionate about barbershop harmony. She is a mother to two teenagers and three dogs. She creates stained glass that is almost as beautiful as her voice. When she isn't singing, Rachel is participating in church activities like mission trips and youth group meetings. Rachel looks forward to singing with Girls and Pearls.
Janet Brockman, Baritone
Singing Baritone fits right in with Janet's personality. She sings the leftover notes in barbershop, just like she eats leftovers at home. She fell in love with the barbershop sound after hearing a men's quartet sing at the office when she lived in Alpharetta, Georgia. After transferring to the Knoxville, TN area, she joined Sweet Adelines in March 2012 and sang with the Smoky Mountain Harmony chapter until October 2012. Work got in the way for a while, but when work eased up in July 2014 she joined K-Town Sound Show Chorus. Janet works fulltime from home as a Business Analyst and lives with her husband, David, in Louisville, Tennessee.
Tolea Capps, Bass
Tolea has been a Knoxville resident since 1996 when she moved here from Michigan. She has been singing most of her life. Tolea was convinced by her daughter, who's best friend was singing with a local chorus at the time, to come and visit. She fell in love with barbershop and has been involved on and off since 2000. She has been a member of K-Town Sound since 2017 and Girls and Pearls since 2018. Tolea can't wait to see what the future holds.
Girls & Pearls Quartet on The Phil Show, 98.7, on Jan 23, 2019:
Contact - Janet:
- Phone: 865.888.6587
- Email:
GirlsAndPearls@ktownsound.org